Taking a work from inception to realization is a very special process — we invite you to be a part of it.
What is a commission?
When we commission a work, we invest financially in the development of a new work and an artist's vision. Our investment as a commissioner or co-commissioner provides resources, space, and more to enrich the creative process — and often, they premiere their work right here at BroadStage.
Our role as a commissioner and producer of original works is centered on dynamic partnerships with the groundbreaking artists of our time. With your support, we've launched a multi-year commitment to invest in the best and brightest artists of today, nurturing a roster of innovative, engaged, and thrilling new projects from concept to fruition.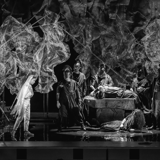 Artist Library
As commissioned works develop, you'll have exclusive access behind-the-scenes via the free Artist Library. Dig deep into the process with these brilliant artists as you follow their journey to premiere.
Centering the Conversation
Commissions and the artist library are part of our commitment to new work taking root on stage and activating public conversation, especially around systemic and social issues. BroadStage is your place to connect.