Make a day out of it.
Planning to visit BroadStage for a live performance? Keep scrolling to learn how you can create your own daycation in the beautiful city of Santa Monica.
About Santa Monica
Santa Monica, also known as the "City by the Sea" and the "Pearl of the Pacific", was founded in 1875. Santa Monica is more than just a beach town. It also is made of mountains, canyons, and rolling hills in a part of Southern California with some of the most agreeable year-round climate.
Santa Monica is a leader in sustainability. To learn more about the city's commitment to environmental consciousness, click below.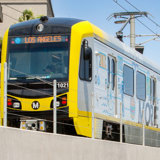 Go Metro
Save money on gas and do Mother Earth a solid by choosing to Go Metro. Take the Expo to the 17th Street / SMC Station and just walk a few blocks down to the theater!