Welcome to BroadStage and our 2023/24 Season.
Join us for a bold new season filled with exceptional artistry and meaningful connection. Immerse yourself in our incredible lineup of performances that will ignite your spirit and empower your soul. 
Single tickets and subscriptions for the 2023/24 Season are now on sale to the general public.
Energizing audiences and community through bold art and personal connection.
broadstage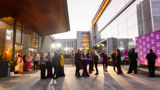 B Involved in our Membership Community!
Benefit from your impact: your Membership not only supports the performing arts in our community, it also enables you to receive a range of exciting benefits.
B Activated at BroadStage.
Through collaboration and partnership, meaningful conversations, and community interaction, we design offerings that welcome you to learn, connect, and grow.