Welcome to BroadStage and our 2022–23 season.
"This is a season of stage magic, beautiful imagery, moving and personal stories, and of course, our signature concert series that flourishes in this acoustic marvel of a venue. Be here as artists rise up to meet the challenges of our time and uplift us all through their own personal reflections and their visions of what we might achieve at this critical juncture in human history."      
— Rob Bailis, Artistic & Executive Director
Energizing audiences and community through bold art and personal connection.
broadstage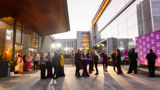 B Involved in our Membership Community!
Benefit from your impact: your Membership not only supports the performing arts in our community, it also enables you to receive a range of exciting benefits.
B Activated at BroadStage.
Through collaboration and partnership, meaningful conversations, and community interaction, we design offerings that welcome you to learn, connect, and grow.