Through our Student Matinee Program, educators can access free performance screenings for their students 6th grade and up! Our Student Matinee Program has served over 16,000 students and over 400 teachers across 13 school districts since 2009.
2022/23 Matinees
This season's featured matinees include two non-verbal clowns creating amazing floating sculptures and a humorous puppet show that focuses on climate change.
Registration is now closed. Visit us here to see what we have prepared for next season! Don't miss out!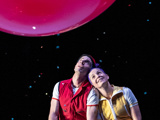 Air Play by Acrobuffos
Digital Screening March 6-17, 2023 
"A joy from start to finish, Air Play will entrance children, and will act as a great reset button for stressed adults." – Sydney Morning Herald
Umbrellas fly, fabrics soar over the audience, balloons swallow people and snow swirls, filling the stage. A visual poem, using no words, brings to life the very air we breathe. With stunning images and gales of laughter, Air Play bounces on the edge of definition: part comedy, part sculpture, part circus, part theatre, all while transforming ordinary objects into uncommon beauty. Great for all ages!
Company Chaliwaté & Focus
Dimanche
Digital Screening April 17-28, 2023
"superb theatre for our time and a wonderful experience for all audience[s] of all ages, encouraging us to appreciate the world we live in while also contemplating the future." — InDaily
Somewhere in the near future, a family is about to spend their Sunday together as strong winds and torrential rains rage outside. Meanwhile, three filmmakers journey to the edge of the earth to document a variety of animal extinctions before meeting their own apocalyptic fate. Through an ingenious blend of clowning, puppetry, and plain old theatrical magic, Dimanche paints a witty and tender portrait of humanity surprised by the uncontrollable forces of nature.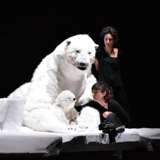 Heartbeat Opera's Fidelio and Ephrat Asherie Dance's ODEON