BroadStage Commission
Universal Child Care Workshop Video
Watch a workshop for Quote UnQuote Collective's upcoming nine-person, multicultural, multilingual, multinational mash-up of a capella voices that screams for Universal Child Care. Part concert, part theatre play and self-consciously neither of these things, Universal Child Care will premiere in 2024.
Stanley Clarke
BroadStage Artist in Residence
A multi-year appointment of Stanley Clarke as Artist in Residence is an artist-centered partnership that includes performances, curation, and mentorship for Santa Monica College and SMMUSD music students. Co-designed by Clarke, BroadStage, Activations staff and school faculty, the residency provides ongoing access to students on the cusp of professional careers, with direct access to and training by this iconic figure in jazz. More information about Workshops & Residencies can be found on the In Community webpage.
Don't miss Clarke's two performance engagements at BroadStage this season, as he shares an evening with celebrated pianist Hiromi, then plays with his latest touring band 4 Ever. 
Visit the show pages for Stanley Clarke & Hiromi and Stanley Clarke 4 Ever to get your tickets.
Celebrity Opera Series
Celebrity Opera Recitals at BroadStage are generously supported by the Lloyd E. Rigler — Lawrence E. Deutsch Foundation.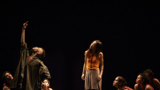 Jungle Book reimagined
Akram Khan Dance Company's
From one of the world's most influential choreographers, Akram Khan's Jungle Book reimagined is a new, multimedia dance theatre work based on the much-loved story by Rudyard Kipling and making its US Premiere at BroadStage. Looking through the eyes of a young Mowgli as a refugee caught in a world devastated by the impact of climate change, the bold movement, startling animation, and video and sound design bring a new sense of urgency to Akram Khan's reinterpretation.
Spanish Harlem Orchestra
Now celebrating 20 years of excellence, SHO, as they are known to fans, is dedicated to the sounds of the barrio (Spanish Harlem, NYC). With band leader Oscar Hernández, (considered one of the most prominent pianists and arrangers in the Salsa & Latin Jazz scene) at the helm, they are on a mission to keep the musical legacy of salsa dura (hard salsa) alive and expand its audience to those who love great music, not just Latin music. Grounded in the past, while focused on the future, they strive to keep the music relevant, creating a unique and fresh approach.